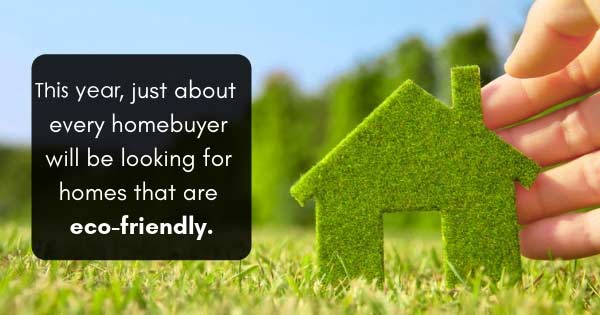 As a homeowner, it's your responsibility to ensure that your family is comfortable and your house looks nice. It's also your responsibility to look for ways to improve your environmental efficiency. Wasting energy and doing things that hurt the environment won't just ruin your energy bill, they'll also decrease your property's resale value. This year, just about every homebuyer will be looking for eco-friendly homes, so you should ensure that your property is full of eco-friendly materials and appliances.
Here are some great ways to improve the look, feel, and environmental efficiency of your home:
Choose bamboo flooring — A great alternative to traditional hardwood floors that also provides environmental benefits is making the switch to bamboo flooring. Additionally, bamboo flooring is not only a very eco-friendly material, but it is also one of the most durable flooring options on the market. When it comes to floor strength and hardness, there is no better option than bamboo. Strand woven bamboo even has a Janka rating upwards of 3,800! Since bamboo is strong, eco-friendly, and looks amazing — there is no reason you shouldn't opt for this great flooring option.

Use energy-efficient light bulbs — Energy efficient light bulbs have become extremely popular in recent years. These bulbs use far less electricity than conventional bulbs, meaning they last much longer, meaning you won't have to spend nearly as much money consistently replacing them.

Utilize natural cleaning products — A common mistake that homeowners often make is using harmful chemicals to clean up around the house. Though these products do the trick, they are very bad for the environment. Instead, using natural products like vinegar, bicarbonate from soda, and citric acid from fruits can be used in place of hazardous chemicals and will give your home a clean, natural look.

Create your own household compost — Using eco-friendly materials and upgrading your bulbs is great, but you can always do more. Instead of wasting kitchen scraps and leftover food, turn them into compost. Simply place a compost bin in your garden and regularly fill it with food waste.
When selecting flooring for your home, opt for both eco-friendly and extremely hard material options like bamboo. If you want to learn more about upgrading your home's flooring and work with experienced bamboo flooring manufacturers, give Ambient Bamboo Flooring a call today!