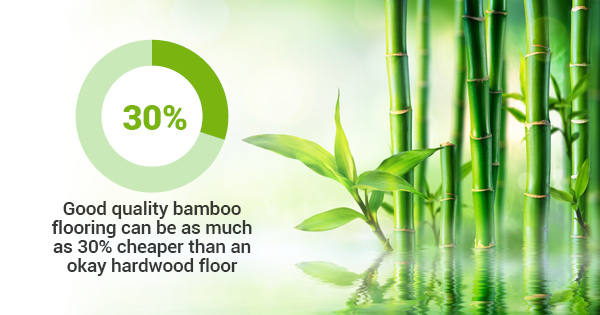 Flooring can make a big difference in the overall appeal of your home. Many people prefer the look of hardwood, but if you're looking for an alternative to traditional hardwood floors, bamboo flooring is definitely the way to go. It's durable and resilient flooring and much more of a renewable resource than hardwood. Don't be misled — bamboo isn't actually hardwood, though it's often referred to as such. Instead, bamboo is a kind of grass that's processed to make the final boards that wind up on your floor. It's a great eco-conscious alternative that looks classy, is easy to clean, and is durable, which is many of the same reasons homeowners like hardwood so much. We'll talk about why you should look at hardwood, how bamboo flooring is created, and what you need to know about installing it. Also, remember that quality varies greatly between bamboo flooring brands, so always be diligent be reading up on bamboo flooring reviews for any brand you're considering.
What Is Bamboo Flooring?
Bamboo flooring is naturally made out of bamboo — but not in the way you might think. Bamboo poles are cut into strips and boiled to get rid of any starch or sugars. Afterward, it's dried and cut down to the right finish. Steaming and carbonizing helps create a darker shade if that's desired, as well as get it to the appropriate warm feel underfoot. There are generally three main types of bamboo flooring among those found in North America.
Strand woven bamboo flooring is by far the hardest option, and it's actually much harder than even the toughest traditional hardwoods.  It's the go-to floor for pet-owners, families with young children, homeowners that want hardwoods in their kitchen, and eco-conscious remodelers.  If a vertical bamboo floor is desired, the bamboo is put on the narrowest edge and press laminated into each other. With horizontal floors, they're stood on their widest edge and connected with adjacent pieces with the help of high pressure. Locking bamboo flooring is made by connecting interlocking joints — this allows for a wider array of styles as well.
Why Should I Buy Bamboo Flooring?
For one thing, high-quality bamboo flooring is extremely durable, with a clean look to it that appeals to many modern homes.   Strand bamboo flooring provides up to 24-hour spill protection so it's great in kitchens, laundry rooms, and half-baths. It's extremely easy to clean and can be refinished if necessary. Depending on what kind of flooring you're interested in installing, it can also be a more DIY-friendly option than other types of flooring (though it's almost always better to have a professional come in and install your floors. Having to redo them can be a costly venture).
For those who are more environmentally conscious, bamboo flooring is also an excellent choice. Consider this: hardwood trees can take as many as twenty years to get to the maturity needed for flooring. However, bamboo reaches maturity in three to five years, making it a highly renewable resource and one that can be harvested regularly without much impact, thanks to its quick growth.
Cost is another factor. The total price of flooring sales in 2017 was over $21 billion. Hardwood can be an expensive option, but bamboo is becoming more cost-effective with each year. Indeed, good quality bamboo flooring can be as much as 30% cheaper than an okay hardwood floor, though you're still getting a nice, natural product that looks sharp.
Finally, bamboo flooring is one of the best floors for indoor air quality.  Since it's a natural hardwood and thus not comprised of off-gassing plastics like vinyl and laminate floors, it ranks as much safer on indoor air quality tests.  It also doesn't trap allergens, dust, and mites like carpet. To top it off, it's a natural product so you get beautiful natural variation between the planks – no artificial-looking repeating patterns.
What Should I Know About Installation?
Preparation will have to be done first before anything is installed. Everything should be clean and dry and all at the same level. The installers will also have to let the bamboo acclimate to the room before installing, usually for several days. Depending on what kind of flooring you get, the installers will either glue, nail, or snap-lock the bamboo flooring into place.
After the bamboo flooring has acclimated, it generally only takes a day or two to install the flooring (depending of course on the number of installers and the size of the job), so you could likely be done in under a week. Like hardwood flooring, you'll want to avoid installing solid bamboo floors in higher humidity areas like basements, instead opting for engineered bamboo floors because basements retain moisture easily.  Make sure that everything is dry before installing and that any spills or moisture are quickly wiped up.
If you love the look of hardwood but aren't ready to spring for it, consider bamboo as a more cost-effective and environmentally friendly option.
If you have to resist any questions, please contact us!