On a recent blog, we looked at how to care for engineered bamboo flooring, but we thought it would be interesting to provide a direct comparison between strand woven, solid, and engineered bamboo flooring.
We hope you will find this useful and it will help you decide on the best kind of bamboo for your home improvement project.
What is a bamboo floor?

Bamboo has been used to make rudimentary floors for centuries, but it burst onto the commercial market in the 1990s, and its popularity has been growing ever since. Unlike other popular floorings, they have retained their value. In fact, early adopters have seen a real increase in their value when they come to sell their home.
Benefits of bamboo floors
Bamboo floors are a great addition to any house as they're durable, attractive (as seen above), and inexpensive. Here is a quick rundown of the benefits of bamboo flooring in general:
A green material
Bamboo floors are eco-friendly as they are made from a rapidly renewable resource, which is grown without the use of pesticides and harvested by hand without damaging the environment. This is the opposite of hardwoods.
Due to this extremely high biomass regeneration rate (bamboo is the world's fastest-growing plant) and it's ability to sequester high amounts of CO2, bamboo is widely considered the most eco-friendly flooring material on the market.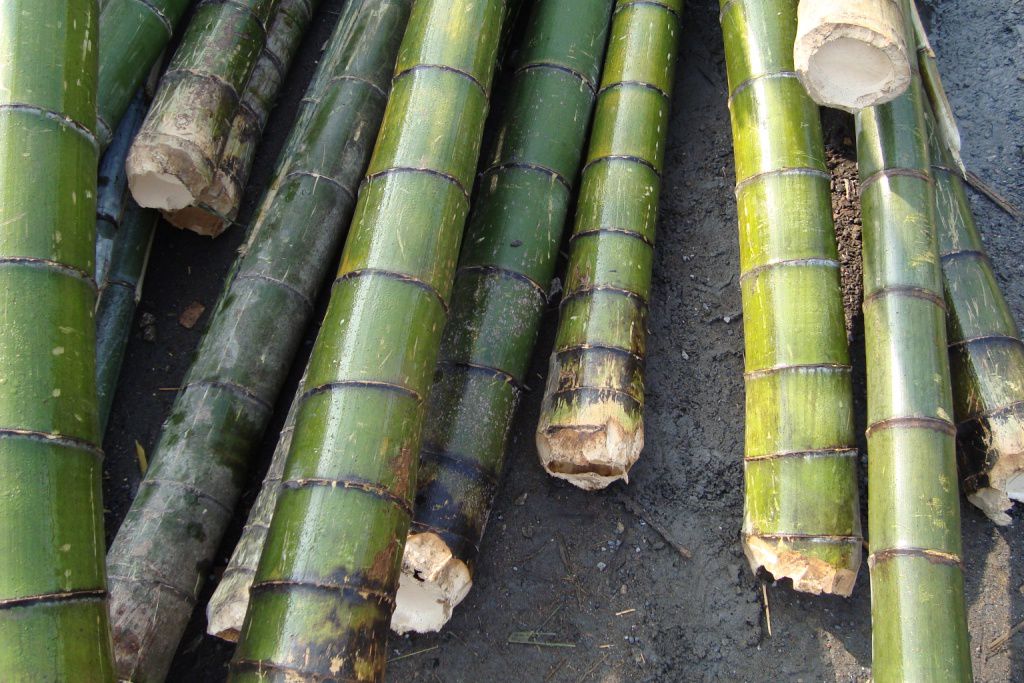 An attractive choice for any home
Bamboo floors can complement any design scheme through a range of finishes and textures that can transform natural planks into rustic, textured boards that evoke the Old West or pale planks suitable for a more modern setting. Our carbonized selection offers a variety of natural hues to choose from (Read more about the Five Essential Questions about Carbonized Bamboo Flooring).
Something that will stand the test of time
Strand woven bamboo floors rank much higher on the hardness scale than other hardwoods and are even often used in restaurants and commercial locations, as well as in kitchens. Strand bamboo floors are the only hardwoods that can't be dented by pet claws.
An inexpensive luxury
Bamboo floors are not only beautiful, but they're also inexpensive, costing around just $4-$5 per square foot – about half of the cost of hardwoods – and they're so easy to install that you can save money by doing it yourself.
Highly resistant to water and moisture
As bamboo grows in a hot and humid environment, it can adapt to humidity and temperature changes more effectively than other types of flooring. Additionally, it's more resistant to water damage (i.e., staining or warping) so you'll have fewer worries about the occasional spill.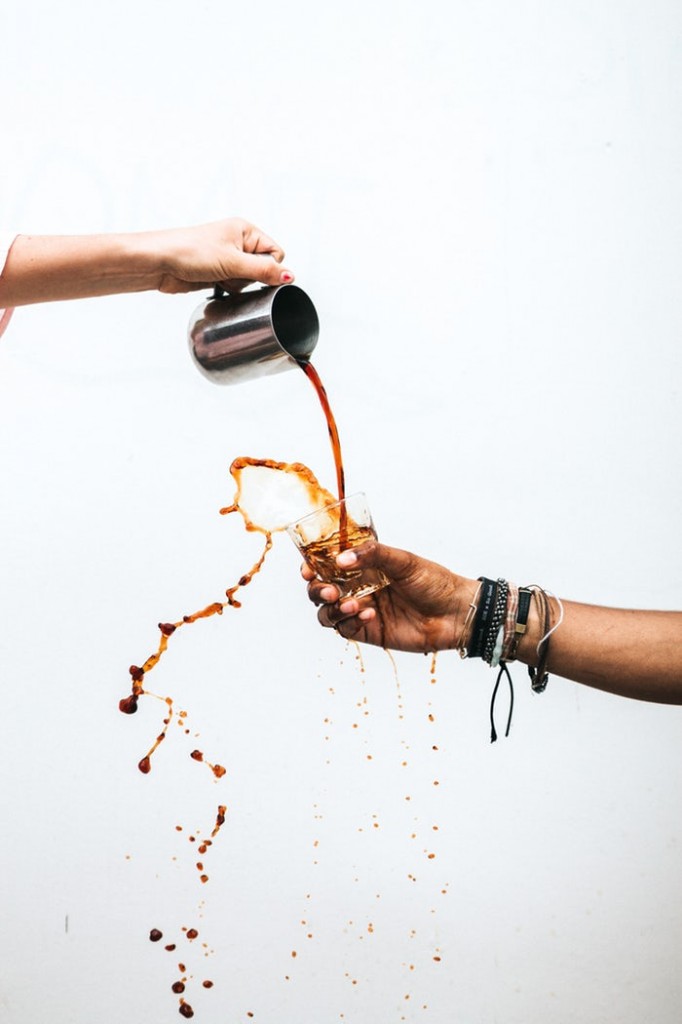 The differences between strand woven, solid, and engineered bamboo floors
Now that we have covered the general benefits of bamboo floors, let's explore the three different types and what makes each one unique.
Strand Woven Bamboo Floors
This is the most robust and popular type of bamboo flooring. During manufacturing, it is stripped down to its constituents and rebuilt to create flooring stronger than other organic flooring material. This creates a floor that will last for decades before starting to wear; meaning less time, money, and effort for you.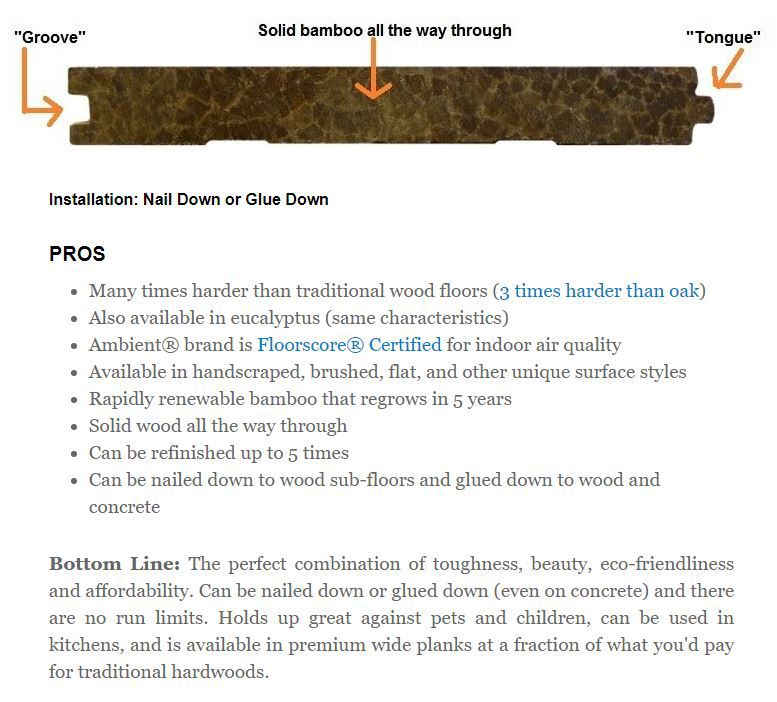 How are they made?
Strand woven bamboo floors are made from 100% solid Moso bamboo, which is subjected to an intense manufacturing process, to increase its strength. The steps include:
The bamboo is separated into strands of fiber, in a similar way to putting paper into a shredder.
If desired, the fibers may be heated to darken them and create carbonized bamboo flooring.
A light amount of resin is added to the raw materials.
The fibers are compressed into a solid block under intense heat and pressure.
Then, the solid block is sliced into planks by a special machine.
Finally, a protective finish is applied to the surface of the planks.
Where can they be installed?
Strand woven bamboo floors can be used in most residential – and even commercial – places as long as you acclimate and install them correctly to protect against damage caused by changes in temperature and humidity (same requirements as for all hardwoods).
Some manufacturers advise against installing solid bamboo in a below-grade room (i.e., where the floor is lower than ground level) or in areas where there is an excessive amount of water, so you should check their instructions before installation. In some cases, they may advise that you take additional precautions before laying the floor.
However, for the vast majority of rooms, you can use strand woven bamboo floors without a problem, including in kitchens, bathrooms, and utility rooms. And of course for basements, you can use engineered bamboo flooring.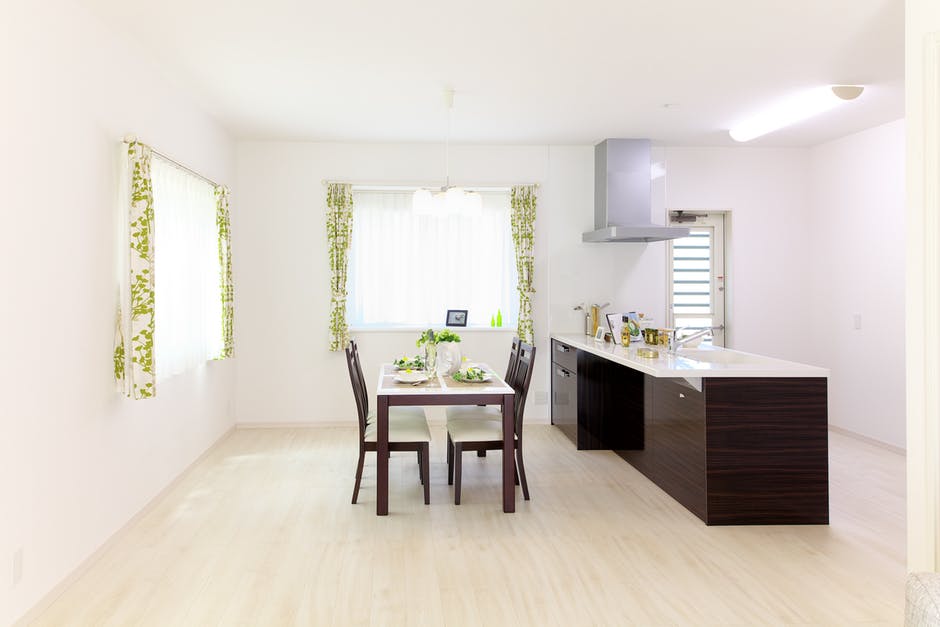 Advantages
There are many advantages to using strand woven bamboo floors in your house, but let's select two that weren't specifically covered in our general overview.
The strongest floor available: What is three times stronger than oak and has the tensile strength of steel? Strand woven bamboo. It's the strongest flooring material on the market, according to the Janka Hardness Scale; harder than all hardwoods.
Can be refinished multiple times: Many strand woven bamboo floors can be refinished five times before they need to be replaced.
Disadvantages
Of course, they are now perfect in all circumstances: the potential disadvantages of strand woven bamboo floors include.
Cannot be stained when refinished: Although bamboo flooring can be refinished and clear-coated, it cannot be stained on-site due to its density. It accepts polyurethane well but trying to apply a stain to change the color before the polyurethane can be difficult to impossible.
Nail-down versions require a special nailer: Dense hardwoods like Brazilian Teak and strand woven bamboo are much harder (which is why they last so much longer) than traditional hardwoods. Due to their density, you'll need to rent an 18 gauge cleat nailer to nail down strand woven bamboo flooring, and these nailers can sometimes be hard to find, however, most bamboo retailers rent them.
Solid "Classic" Bamboo Floors (also called "horizontal" or "vertical" bamboo floors)
These floors are also made from 100% Moso bamboo but their manufacturing process is a bit more simple than that used to produce strand woven bamboo flooring. The planks are still tough when compared to other types of flooring, but less so than strand woven bamboo.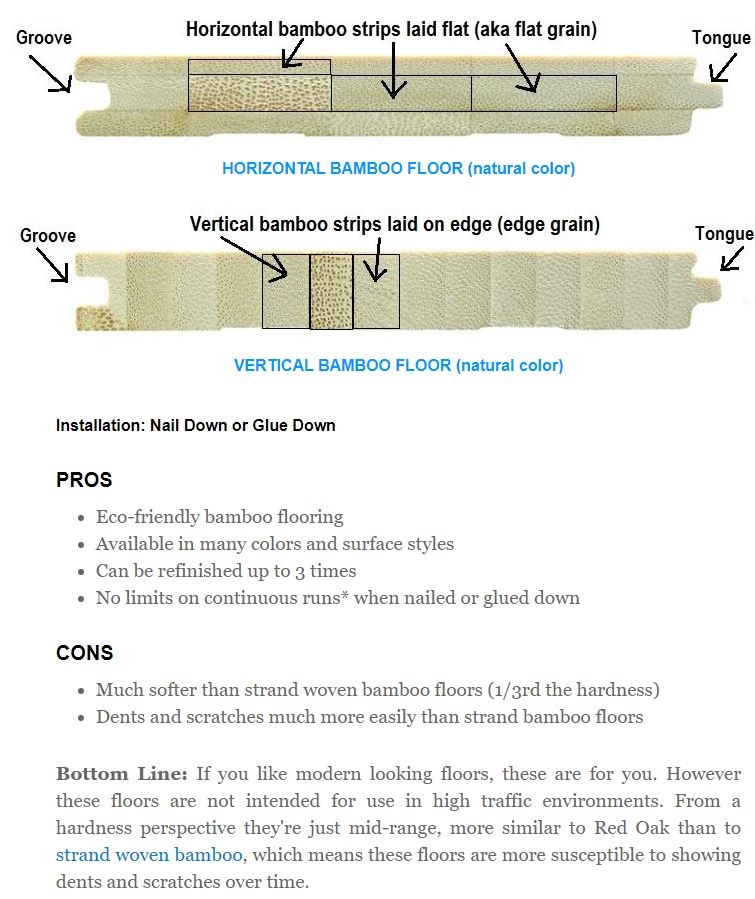 How are they made?
This process is slightly less intense than the method for creating strand woven bamboo floors, but it also allows for some variety in the style of the floor.
1) The bamboo is sliced up into strands but to a lesser extent.
2) The outer layer is then peeled away, and the ridges of the bamboo strands are sanded until smooth
3) At this point, there are two different methods each producing a different style.
For the horizontal grain planks, the manufacturer will lay the pieces flat on top of each other (see above).
For the vertical grain planks, the manufacturer will lay the pieces on edge up against each other (see above).
4) The pieces are then pressed together and fused using a combination of adhesives and pressure.
When can they be installed?
As above, a solid bamboo floor can be used in any number of settings throughout your home from kitchens to bathrooms and everything in between. However, some manufacturers will advise you to use another type of bamboo flooring for below-grade, moisture-rich areas of the home, and high traffic commercial spaces.
Advantages
Now, let's look at some of the additional benefits of solid bamboo floors not covered in the introduction.
As strong as the hardest of hardwoods: While it may be weaker than strand woven bamboo floors, these solid planks are stronger than the majority of hardwoods regarding toughness and durability.
No limit on room size: You can install solid bamboo planks in rooms of any size. This is because these floors are nailed down or glue down.
Can be refinished three times: While this is a smaller number than with strand-woven bamboo floors, it is probably ample for most circumstances.
Slightly greener manufacturing: The method of manufacturing for solid planks is slightly greener than that of strand woven or engineered bamboo (and especially hardwoods) because it takes less energy and machinery, and definitely more green than other hardwoods.
Disadvantages
There are some disadvantages to using solid bamboo as opposed to strand woven or engineered:
Not as strong as strand woven bamboo flooring: Solid bamboo planks are weaker than their strand-woven counterparts, but they're still as strong as most hardwoods. That's why you can feel confident about them lasting a long time in your house.
Not as durable as strand woven: Solid bamboo flooring does dent and scratch more easily than strand woven, because they have about 1/3 the hardness.
A tougher installation: You have to nail down or glue down the floors. Although these are still relatively easy to do (see the video below), they do require more work.
Engineered Bamboo Floors
Unlike the bamboo flooring that we mentioned above, engineered bamboo flooring is not usually not made of 100% bamboo. It's a veneer (wear layer) of Moso bamboo on top of high-density fiberboard or multi-ply wood core.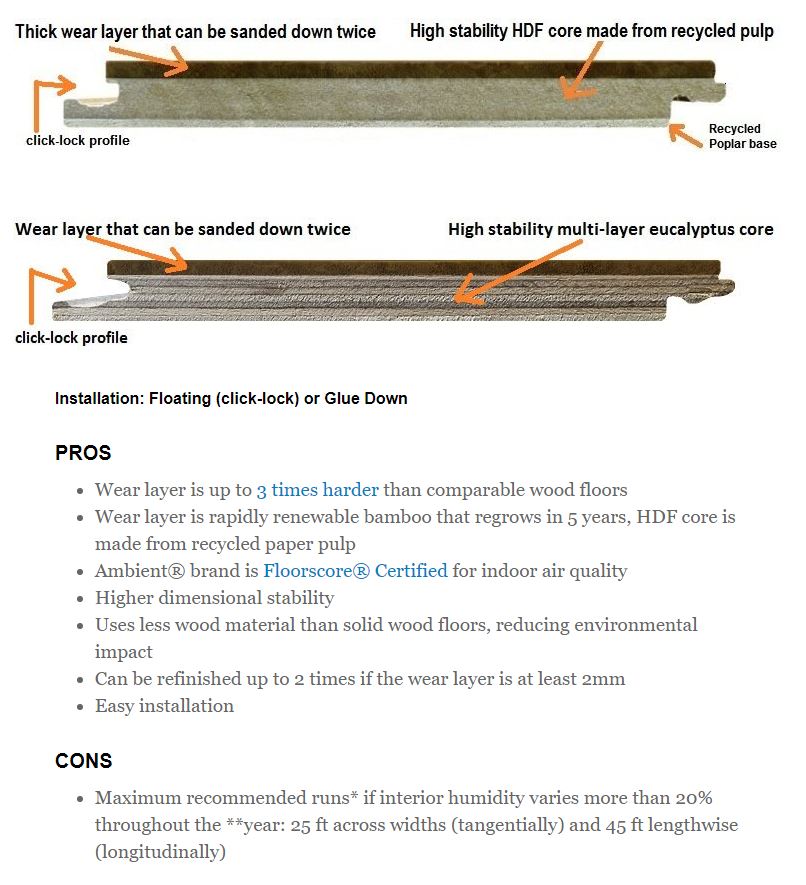 How are they made?
Engineered bamboo floors typically consist of a wear layer of solid bamboo that is laminated to an HDF or multi-ply core.
1) The strand woven bamboo planks are sliced into thin sheets (this ends up being called the "wear layer")
2) These sheets are attached to the high-density fiberboard or multi-ply core with adhesive
3) The planks are then covered with a protective finish to improve longevity
When can they be installed?
Engineered bamboo floors can be used in almost any room including below grade, so long as you install it according to the manufacturer's instructions. This means that engineered bamboo floors are great for basements too.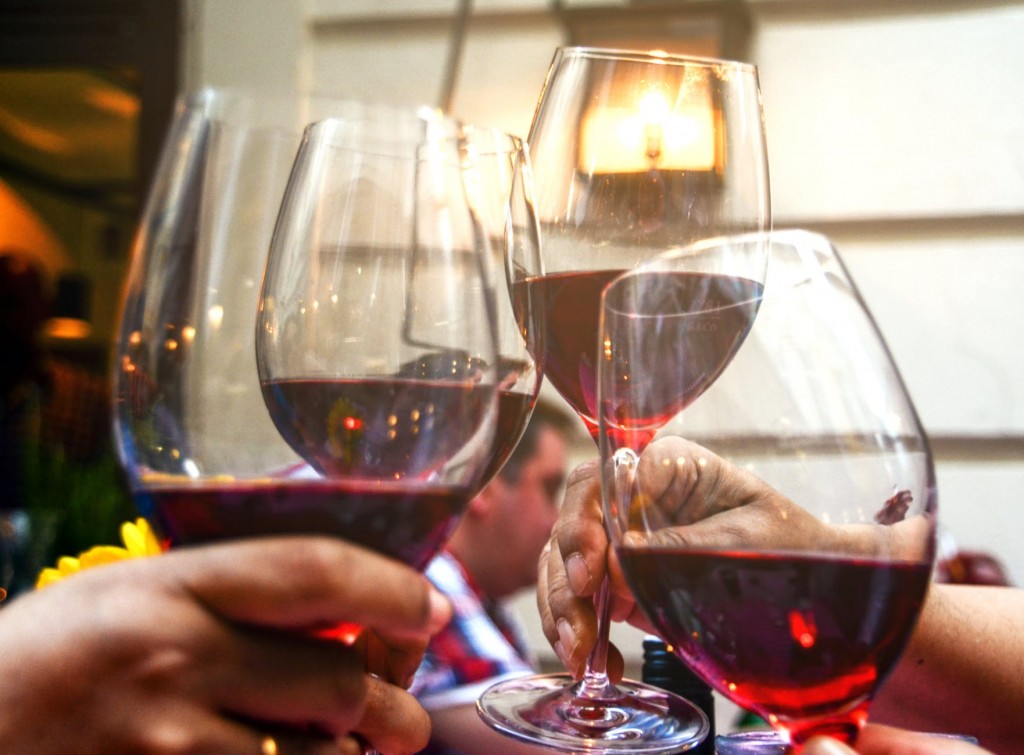 Advantages
There are occasions when bamboo floors may be better for you than strand woven or solid floors:
A more stable floor: Engineered floors are more dimensionally stable than 100% solid floors. This means they can be used in rooms such as basements and cellars that are not suitable for solid floors.
Easier to install, repair and replace: Since most engineered floors are floated using the click-lock method, they are very easy to install and also easy to repair or replace in the future.
Disadvantages
Let's look at the disadvantages of engineered bamboo floors compared with the other types of bamboo flooring:
Slightly more expensive: Engineered bamboo is slightly more expensive than the other types of bamboo flooring as core layers and longer manufacturing time can increase the manufacturing cost. However, at an average of $4-$6 per square foot, they still offer a very high bang for the buck.
Slightly less green: Due to the multiply and HDF cores used they are slightly less eco-friendly than solid bamboo flooring.
Areas with fluctuating humidity may require run limits. If you live in a geographic area where the humidity varies more than 20% throughout the year and you install a floating hardwood or bamboo floor, you'll need to keep your run limits down to 25 ft wide x 45 ft long.
What type of bamboo flooring do I need?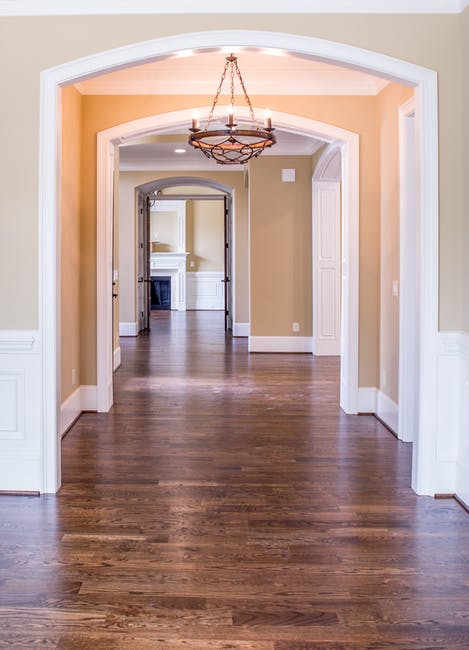 It depends on your circumstances. The type of bamboo floor that you choose depends on several different factors, including:
the average levels of humidity in your town/state/region
how strong you need the floor to be (i.e., will it receive an excessive amount of foot traffic)
the room that you want to install it in (i.e., basements, kitchens, bathrooms)
the location of that room (i.e., below-grade/below ground)
the installation method you want to use (if installing it yourself)
While we can't decide that for you, we hope that we have provided you with all the information you need so that you make the right decision for yourself.
If you're unsure, then ask a trusted local contractor for their advice.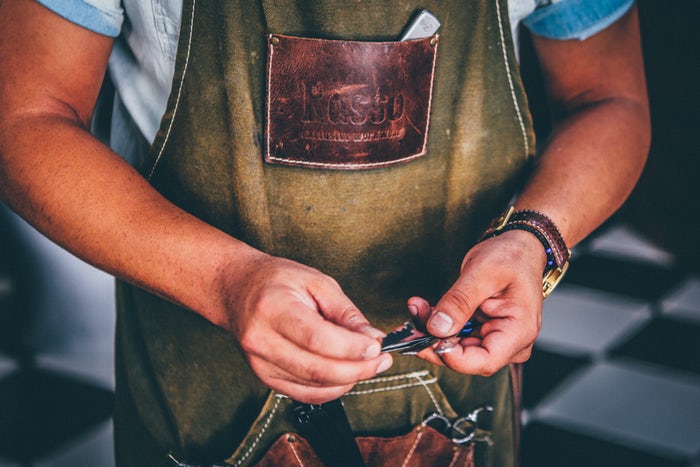 As always, we look forward to receiving your comments. Let us know if you found this helpful and any other questions you might have. We'll endeavor to answer them soon.


---
---
Categories: Flooring