Traveling is something that happens to everyone eventually, whether you're visiting relatives on family holidays, traveling for business, or going on a well-earned vacation. Of course, for the frugal and environmentally conscious, you can't help but notice that things like road trips, airports, and hotels tend to bring out the worst in us. Everything is bundled up to throw away, disposable plates and packets are the norms, and mostly you're so wrapped in getting from place to place that your usually green tactics disappear. The fact of the matter is that it's not that hard to stay green, you just need a plan that's easy to remember at the moment.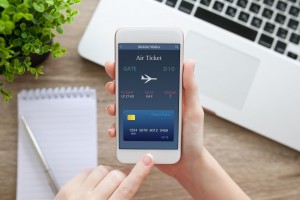 Book Online and Carry Digital Tickets
The first thing to remember is that print-outs are almost completely obsolete these days. With the rise of mobile apps and online booking, you have the option of making almost % of your plans ahead of time on your phone or computer, then carrying the ticket itself as an emailed or saved file without having to print it out. While you should double-check procedures before leaving home, you can probably get away with zero paper waste this trip by avoiding ticket printouts.
Prepare Your Home for Vacancy
Between packing your luggage into the car and locking the front door, take a moment to prepare your home to be vacant for a few days or weeks. If your home is at risk of freezing, open up the sink cabinets and consider leaving the thermostat set at a low 40 F. Otherwise you can turn your thermostat off entirely. Make sure the home is sealed and that no water or power will be wasted while you're gone.
Home Departure Preparation
Switch off or turn down the thermostat
Insulate Pipes and open cabinets
Close and lock all windows
Lock and deadbolt exterior doors
Close garage door all the way
Turn off lights and appliances
Unplug large appliances and computers
Turn off water to prevent drips and leaks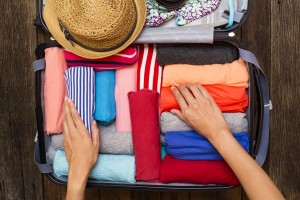 Lightweight Packing Policy
Whether you're flying or taking several hour road trips, one key to all green travel is fuel efficiency. Naturally, you want the least possible fuel burn for the distance and speed traveled which means reducing weight. While compact packing is important, also take a moment to consider the actual heft of each item you want to bring. Only pack a few extra pieces of clothing forgo your heaviest shoes unless you will really need them, and pack books onto your phone instead of paper in your suitcase.
Travel With a Sturdy Water Bottle
There are several reasons to travel with a sturdy reusable water bottle. First, you don't have to throw away a disposable every time you hydrate. It also allows you to take water onto a plane, just as long as the bottle is empty when you go through the security check. You can fill it at a water fountain or restaurant once you're inside. On a road trip, the water is good for both drinking and an emergency hand wash should someone get sticky along the way.
Bring Your Reusable Grocery Bags
You know those sturdy squared-off cloth grocery bags you bought to reduce the plastic waste of your regular grocery shopping? Bring a few. These are not only great when shopping for meal ingredients on the road to cook in your hotel room or Airbnb, but they can also be used for emergency packing, holding souvenirs on the return trip home, and a surprising number of other in-the-moment uses when you really need a bag or something with sturdy handles.
Remember to Recycle
One of the things we almost always forget to do when traveling is to recycle. It's so important to get the trash out of your hands, pockets, and luggage that it completely slips your mind to separate it and find a recycle bin. The good news is that plenty of restaurants, gas stations, and hotels have recycled cans so if you simply remember to sort, you will be able to recycle. For road trips, keep two different colored emplaced trash bags and try to remember to keep one of those sturdy grocery bags for recyclables in your room during hotel stays.
Stash and Recycle
Plastic and Glass Bottles
Cardboard and Paper containers
Fast Food Paper Bags and Wrappers
Find Greener Lodgings
When it comes to green travels, not all places to get a nice room are equal. If you prefer to stay in hotels, look for brands that are big on recycling, have green business policies, and make it easy for guests to stay green. Otherwise, consider staying in an efficient little BnB, Airbnb, or even a working farm that also functions at an Inn.
Take Complimentary Leftovers With You
Hotels and Airbnbs usually have to throw away anything left in partially used complimentary shampoo, soap, etc. You, on the other hand, might find these things very useful on the next leg of the journey or combined into a travel container with other complimentary leftovers.
Complimentary Items to Keep
Shampoo and Conditioner
Bar or Liquid Soap
Lotion
Toothpaste
Condiments
Coffee or Tea Bags
Re-Use Towels and Sheets
Wherever you stay, remember that the sheets are clean when you arrive and complimentary towels don't have to be washed every time you leave the room. You can save water and power wherever you go by remaking your beds with the same sheets and laying towels out to dry instead of dropping them in a damp pile on the floor.
Try the Local Food
Packaged gas station food and even many fast food ingredients are shipped across the country in big truck deliveries. Rather than encouraging the more fuel consuming industry policies, support eating locally produced foods instead. For road food, stop at little cafes that are more likely to source their ingredients from local farms or pick up travel snacks at grocery stores instead of gas stations.
Ride Trolleys
Another way to save on rental cars or taxi fuel is to take public transportation instead. If where you're visiting or decide to explore on your travels is in a big city, there's a chance you can even take a very energy-efficient cable trolley. These old-fashioned public transport cars are a delightful experience for the whole family and allow you to get around downtown quickly without using any gas at all.
Last update of the article: 11/16/2020.