Don't make the assumption the cost of installing bamboo flooring is outside your home renovation budget. It's actually right in line with hardwood floor installation costs.
Why We Can't Get Enough of Bamboo Flooring
Did you know this natural and eco-friendly flooring is more than twice as hard as most hardwoods? Did you know that it costs about half as much per square foot? Bamboo flooring is certainly a savvy investment – you can get premium lengths and widths (6 foot wide planks) for as little as $4.37 (as of December 2019). Add to that its incredible durability and hardness and that it's gorgeous with a capital "G", and it seems that the case is easily made for bamboo as the most practical choice of flooring. Because bamboo is considerably cheaper than other hardwood options, it lands in the category of "Affordable Home Improvement Projects With Great ROI"!!!
Those benefits aside, if you're working with a budget like most homeowners, you also need to consider the cost of installation. In this post, we explore how bamboo flooring installation (7 Tips For How To Choose A Flooring Installer) costs fare when compared against traditional hardwoods.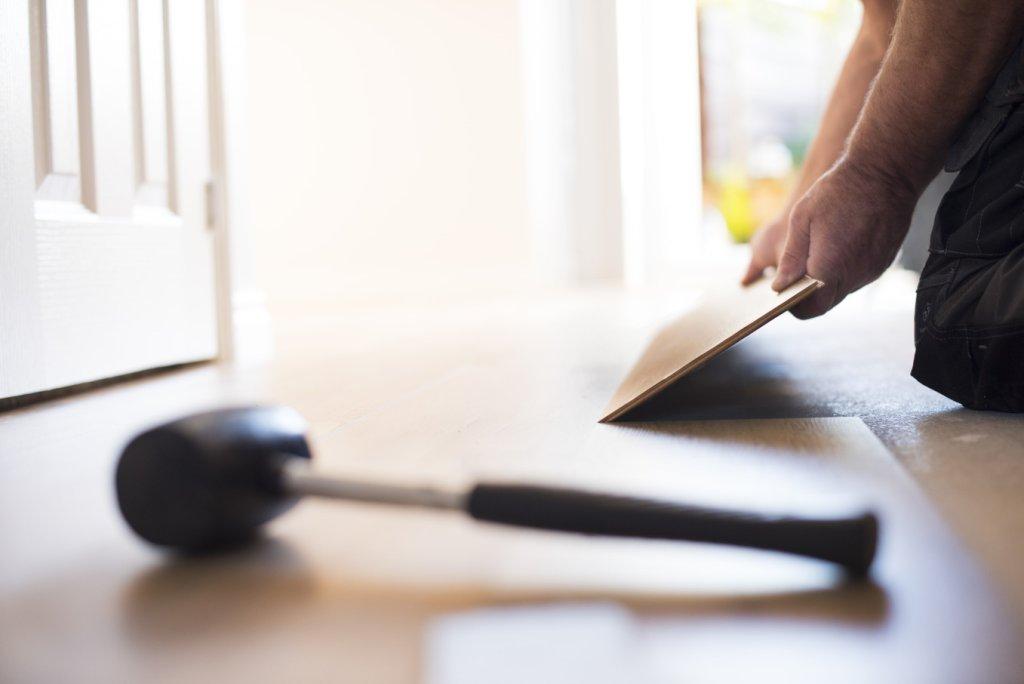 Main Factors That Determine The Cost To Install Bamboo Floors

As mentioned, the cost of installing bamboo flooring can be compared to that of traditional hardwoods, which generally come in at between $2-$5 per square foot. Here are the 3 main factors that will affect your installation cost:
FACTOR #1: THE TOTAL SQUARE FOOTAGE
The average flooring installation is around 800 square feet. If you have less than this, installers will typically raise their installation cost per square foot in order to cover their costs (and earn a living!). If you exceed 2,000 square feet, installers may drop their price to give you a discount.
FACTOR #2: AMOUNT OF SIDE WORK REQUIRED
Will the installer need to rip up existing tile or hardwood flooring? Will they need to level the sub-floor? Will they need to move furniture? Will they install perimeter moldings such as baseboard or shoe molding? Do you want the installer to bring the flooring into the house for acclimation? These are just a few of the items that can increase your installation cost, as they can be time-consuming and labor-intensive.
FACTOR #3: WHERE YOU LIVE
Needless to say, installation costs in a densely packed or difficult-to-access areas like New York, Santa Catalina Island, or rural areas mean more transportation overhead for the installer and means higher installation prices.
FACTOR #3: THE TYPE OF INSTALLATION: GLUE VS NAIL VS FLOAT
Lost? Check out between the 3 installation methods.
The glue-down method is the most stable type of flooring installation but also the most expensive. It's the most stable because the elasticity of the adhesive allows the wood to expand and contract naturally through the seasons. If you can afford to buy a high-quality glue, it will provide two great additional benefits: sound and moisture insulation. It's more expensive from an installation perspective because it's messier and more labor-intensive than nailing or floating a floor
The nail-down method is affordable and fast. However, over time the nails can come loose and cause squeaking in the floor due to seasonal expansion and contraction. Don't confuse this with loose nails in the sub-floor, which is the main culprit when it comes to wood floor squeaking.
Some installers will provide a discount to install via the click lock floating method, because they go much faster than glue-down or nail-down jobs. The limitation here is that, depending on your home's indoor humidity settings, you may have limitations to the lengths of your runs.
DIY or Professional Install?
It pays to take the time to consider your new bamboo flooring installation options for your home. Installation is an often-underestimated process, requiring,
Advanced tools (such as moisture meters, air compressors, pneumatic nailers, etc)
Expert knowledge (e.g. thoroughly reading the installation instructions)
Careful selection of the optimal method (choosing between glue down, nail down or floating)
NOTE: It's a job that anyone can do, but it's much easier for practiced DIY'ers. Even then, it's necessary to arm yourself with plenty of knowledge before you start.
Ask your pals for assistance
We've calculated, based on average American room sizes, the following installation costs:
Large living room: 60 square feet (min $90 max $405)
Small living room: 200 square feet (min $300 max $900)
Bedroom: Between 120 (min $180 max $540) and 200 square feet (min $300 max $900)
Kitchen: Between 200 (min $300 max $900) to 250 square feet (min $375 max $1125)
Small rooms (including foyers and utility rooms): Between 30 (min $45 max $135) and 40 square feet (min $60 max $180)
Order your free bamboo flooring samples today to be sent to your home for some decorating inspiration. Just click on the box below or call one of our knowledgeable professionals at (866) 710-7070.


Image Credit: Al Buettner
---
---
Categories: Flooring