Perfoming your due diligence has never been more important
What You Don't Read May Hurt You - Why Reviews Matter More With Bamboo Flooring.
Since bamboo is not a graded material like hardwood, bamboo flooring reviews can be the single most important way to determine the quality of the brand you intend to purchase, and doing your homework has never been more important. There are a wide array of bamboo floors on the market for today's consumer, but quality varies significantly between brands. Furthermore, price is no longer an indicator of quality, as even higher-priced brands can be plagued by poor customer reviews. The best way to determine the quality of a product is to seek out the feedback provided by its past customers.
"Quality is never an accident; it is always the result of high intention, sincere effort, intelligent direction and skillful
execution; it represents the wise choice of many alternatives." -William A. Foster
"The bitterness of poor quality remains long after low pricing is forgotten." -Anonymous
Most Trustworthy Websites For Bamboo Floor Reviews
While some reviews sites are easily manipulated by companies, the sites
below are often considered the most trustworthy for product reviews.
A FEW NICE THINGS AMBIENT CUSTOMERS HAVE SAID ABOUT THEIR BAMBOO FLOORING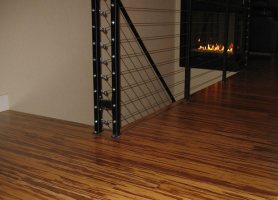 Leah and Scott
I just had to send a few pictures of the beautiful floor we received from your company. We ordered the Tiger Strand. We love it and our installer loved it too. The process of ordering was easy and with the option to store it in house it worked out perfect while our house was being built. We are very happy and recommend your company and this flooring to everyone we know! Thank you very much for your great service and great product!! P.S. Everyone that comes into our home loves the floor!!.
Alysen M
Just wanted to send you guys some photos of our finished floors. My husband laid it down himself with the Bostik glue and it went really smoothly. We are very pleased with the final results. Everyone who comes over to the house is impressed with the quality and look of the floor. Thank you and we will recommend you to our friends!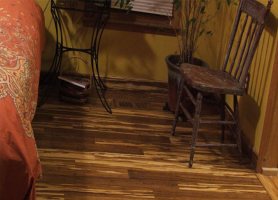 Shari G
Here are pics of our BEAUTIFUL new bamboo floor! We used 2/3 strand woven Tiger and 1/3 carbonized. We love, love, love it! It's our new favorite room. My husband, father-in-law, and I installed it ourselves and it was truly quite easy to do. We even used some extra pieces as the baseboards to give it a really finished look. Thanks for your help...I'm definitely passing along your info to others. .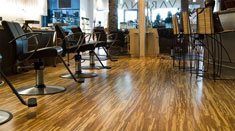 Ricardo S
We are so happy with the floors we installed at our Aveda Spa. Our clients comment on the beauty constantly! Furthermore, they hold up better than any other wood floor we have ever seen. Even our installers commented on the excellent engineering. Simply wonderful. We want to give huge thanks to everyone at Ambient for their unparalleled products, service, and knowledge..
abcd-24352
Ambient was perfect in both selection and customer service. All my flooring needs were taken care of on this one site. Highly recommended.